Book News
"Say You'll Remember me is a story that'll stick with you even after you close the book.  Drix's desire to carve out a better future for himself and Elle's thirst for a future not dictated by her parents is sincere and relatable. Set some time aside because you'll want to savor this romance!" – Erin Watt, #1 New York Times Bestseller
"This story broke my heart and then stitched it back together before I finished the last page. Katie McGarry owes me a box of tissues." –Kami Garcia, #1 New York Times bestselling coauthor of Beautiful Creatures & author of The Lovely Reckless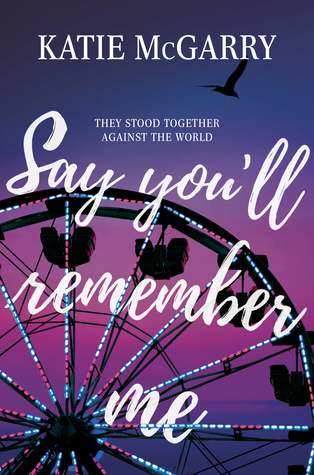 Release Date: January 30, 2018 
Book Description: 
When Drix was convicted of a crime–one he didn't commit–he thought his life was over. But opportunity came with the new Second Chance Program, the governor's newest pet project to get delinquents off the streets, rehabilitated and back into society. Drix knows this is his chance to get his life back on track, even if it means being paraded in front of reporters for a while.
Elle knows she lives a life of privilege. As the governor's daughter, she can open doors with her name alone. But the expectations and pressure to be someone she isn't may be too much to handle. She wants to follow her own path, whatever that means.
When Drix and Elle meet, their connection is immediate, but so are their problems. Drix is not the type of boy Elle's parents have in mind for her, and Elle is not the kind of girl who can understand Drix's messy life.
But sometimes love can breach all barriers.
Fighting against a society that can't imagine them together, Drix and Elle must push themselves–Drix to confront the truth of the robbery, and Elle to assert her independence–and each other to finally get what they deserve.
Katie McGarry fans get excited for a new book release by this amazing writer!
I have been ready for this book to be out since the moment that she announced it! She is one of my favorite authors and it brings me so much joy because I'm finally going to be reading something from her soon! Her stories are a good escape from reality, and you do not want to miss these new characters that we will be introduced to and consumed by. 
You can now pre-order your copy, the link is down below! 
http://www.katielmcgarry.com/page/Say-Youll-Remember-Me.aspx
Book News
"A master of steamy romance, Tucker skillfully threads Noah and Gracie's sexual tension throughout the investigation…No one is above suspicion in this taut, sizzling romantic mystery." (Kirkus Reviews)
Release Date: January 23, 2018 
Book Description:
Noah Marshall has had a privileged life thanks to his mother, the highly decorated chief of the Austin Police Department. But all that changes the night she reveals a skeleton that's been rattling in her closet for years: she doesn't deserve her commendations or her medals—in fact, she deserves to be locked behind bars for what she did to a fellow officer to save her own reputation. When she finally succumbs to the guilt of destroying an innocent family's life, she leaves Noah alone to carry the burden of this shocking secret, which she makes him vow never to share.
Gracie Reynolds wasn't born into trailer park life, but after ten years of learning how to survive in The Hollow, it's all she knows anymore. At least here people don't care that she is a byproduct of a white mother and a black father. And they certainly don't care that her dad was a corrupt Austin cop. Here, she and her mother can almost forget the shame he brought upon them…until a man who clearly doesn't belong shows up on her doorstep one night, asking questions.
Together, Noah and Gracie set out to uncover the truth about the Austin police department's dark and messy past­—but the scandal they uncover is bigger than they bargained for, and goes far higher up than they ever imagined.
K.A. Tucker has the most beautiful and engaging stories, and you will not want to miss this upcoming one! Make sure you preorder your copy today!
https://www.katuckerbooks.com/keephersafe
Book News
The author of the #1 New York Times bestseller and global phenomenon The Girl on the Train returns with Into the Water, her addictive new novel of psychological suspense.
Book Description:
A single mother turns up dead at the bottom of the river that runs through town. Earlier in the summer, a vulnerable teenage girl met the same fate. They are not the first women lost to these dark waters, but their deaths disturb the river and its history, dredging up secrets long submerged.
Left behind is a lonely fifteen-year-old girl. Parentless and friendless, she now finds herself in the care of her mother's sister, a fearful stranger who has been dragged back to the place she deliberately ran from—a place to which she vowed she'd never return.
With the same propulsive writing and acute understanding of human instincts that captivated millions of readers around the world in her explosive debut thriller, The Girl on the Train, Paula Hawkins delivers an urgent, twisting, deeply satisfying read that hinges on the deceptiveness of emotion and memory, as well as the devastating ways that the past can reach a long arm into the present.
Beware a calm surface—you never know what lies beneath.
Book Release: May 2
Check out the article below, and make sure to preorder your copy today!
Movie News

Release Date:  March 3
Goodreads' Book  Description:
What if you only had one day to live? What would you do?
Who would you kiss? And how far would you go to save your own life?
Samantha Kingston has it all: the world's most crush-worthy boyfriend, three amazing best friends, and first pick of everything at Thomas Jefferson High—from the best table in the cafeteria to the choicest parking spot. Friday, February 12, should be just another day in her charmed life.
Instead, it turns out to be her last.
Then she gets a second chance. Seven chances, in fact. Reliving her last day during one miraculous week, she will untangle the mystery surrounding her death—and discover the true value of everything she is in danger of losing.
The trailer for Before I fall is out…and you do not want to miss it!
Zoey Deutch plays Samantha, who is stuck reliving her life day after day. It's like deja vu over and over again…but only she can change the outcome of her future by not repeating her past the next day.
With this stunning debut novel, New York Times bestselling author Lauren Oliver emerged as one of today's foremost authors of young adult fiction. Like Jay Asher's Thirteen Reasons Why and Gayle Forman's If I Stay, Before I Fall raises thought-provoking questions about love, death, and how one person's life can affect so many others.
The movie is out this Spring 2017…March 3rd to be exact!
The trailer for the book adaptation is down below. Make sure to go grab your copy before the release!
And check out Lauren Oliver's website!
http://laurenoliverbooks.com/before_i_fall.php
Book News
Fans of Thirteen Reasons Why should be very excited to see this amazing novel come to life!
The adaptation for this novel is in final negotiations with Netflix to produce this best-selling young adult novel as a 13-episode series.
Book Description:

Clay Jensen returns home from school to find a strange package with his name on it lying on his porch. Inside he discovers several cassette tapes recorded by Hannah Baker–his classmate and crush–who committed suicide two weeks earlier. Hannah's voice tells him that there are thirteen reasons why she decided to end her life. Clay is one of them. If he listens, he'll find out why.

Clay spends the night crisscrossing his town with Hannah as his guide. He becomes a firsthand witness to Hannah's pain, and as he follows Hannah's recorded words throughout his town, what he discovers changes his life forever.
Check out the link with the information about the show down below, and make sure you grab your copy today!
Netflix Adapting '13 Reasons Why' Into Selena Gomez Series (EXCLUSIVE)
And don't miss Jay Asher's new novel: What Light.
http://jayasher.blogspot.com/p/books.html
 
Book News
Release Date: May 2, 2017
Book Description:
Twenty-four-year-old truck stop waitress and single mother Catherine Wright has simple goals: to give her five-year-old daughter a happy life and to never again be the talk of the town in Balsam, Pennsylvania: population two thousand outside of tourist season.
And then one foggy night, on a lonely road back from another failed attempt at a relationship, Catherine saves a man's life. It isn't until after the police have arrived that Catherine realizes exactly who it is she has saved: Brett Madden, hockey icon and media darling.
Catherine has already had her fifteen minutes of fame and the last thing she wants is to have her past dragged back into the spotlight, only this time on a national stage. So she hides her identity. It works.
For a time.
But when she finds the man she saved standing on her doorstep, desperate to thank her, all that changes. What begins as an immediate friendship quickly turns into something neither of them expected. Something that Catherine isn't sure she can handle; something that Catherine is afraid to trust.
Because how long can an extraordinary man like Brett be interested in an ordinary woman like Catherine…before the spark fades?
Guys KA Tucker is releasing another contemporary romance and you cannot miss it!
Her writing and characters are amazing every time, so May 2nd needs to hurry up and get here soon!
You can now pre-order your copy today…you do not want to miss this!
Book News
Release Date: October 18, 2016
Goodreads' Book Description:
From Jay Asher, #1 New York Times bestselling author of Thirteen Reasons Why, comes a romance that will break your heart, but soon have you believing again. . . .

Sierra's family runs a Christmas tree farm in Oregon—it's a bucolic setting for a girl to grow up in, except that every year, they pack up and move to California to set up their Christmas tree lot for the season. So Sierra lives two lives: her life in Oregon and her life at Christmas. And leaving one always means missing the other.
Until this particular Christmas, when Sierra meets Caleb, and one life eclipses the other.
By reputation, Caleb is not your perfect guy: years ago, he made an enormous mistake and has been paying for it ever since. But Sierra sees beyond Caleb's past and becomes determined to help him find forgiveness and, maybe, redemption. As disapproval, misconceptions, and suspicions swirl around them, Caleb and Sierra discover the one thing that transcends all else: true love.
What Light is a love story that's moving and life-affirming and completely unforgettable.
Go grab your copy today!
Book News
Crave presents the ultimate immersive experience with this beautiful four-color illustrated edition of He Will Be My Ruin, the novel praised as a "nail-biting thriller" (Publishers Weekly), "compelling web" (Kirkus Reviews), "tightly plotted character study" (RT Magazine), and a "dark, twisty tale of lurid secrets, lavish lifestyles, and devastating loss" (Lisa Gardner, #1 New York Times bestselling author).
A woman who almost had it all…
On the surface, Celine Gonzalez had everything a twenty-eight-year-old in Manhattan could want: a one-bedroom apartment on the Lower East Side, a job that (mostly) paid the bills, and an acceptance letter to the prestigious Hollingsworth Institute of Art, where she would finally live out her dream of becoming an antiques appraiser for a major auction house. All she had worked so hard to achieve was finally within her reach. So why would she kill herself?
A man who was supposed to be her salvation…
Maggie Sparkes arrives in New York City to pack up what's left of her best friend's belongings after a suicide that has left everyone stunned. The police have deemed the evidence conclusive: Celine got into bed, downed a lethal cocktail of pills and vodka, and never woke up. But when Maggie discovers a scandalous photograph in a lock box hidden in Celine's apartment, she begins asking questions. Questions about the man Celine fell in love with. The man she never told anyone about, not even Maggie. The man Celine believed would change her life.
Until he became her ruin…
On the hunt for evidence that will force the police to reopen the case, Maggie uncovers more than she bargained for about Celine's private life—and inadvertently puts herself on the radar of a killer. A killer who will stop at nothing to keep his crimes undiscovered.
K.A. Tucker's novel is illustrated with pictures within the chapters of the story. Whether you've read the book or not, it is a good read that you cannot miss. It will have you intrigued from the very beginning, and will have you questioning everyone and everything.
It's basically a picture book for adults!
Don't miss this amazing book, go grab your copy today!
Movie News
Goodreads' Book Description:
What if the person you were meant to be with could never be yours?
17-year-old Lucinda falls in love with a gorgeous, intelligent boy, Daniel, at her new school, the grim, foreboding Sword & Cross . . . only to find out that Daniel is a fallen angel, and that they have spent lifetimes finding and losing one another as good & evil forces plot to keep them apart.
Get ready to fall . . .
There's something achingly familiar about Daniel Grigori.
Mysterious and aloof, he captures Luce Price's attention from the moment she sees him on her first day at the Sword & Cross boarding school in Savannah. He's the one bright spot in a place where cell phones are forbidden, the other students are screw-ups, and security cameras watch every move.
Except Daniel wants nothing to do with Luce–he goes out of his way to make that very clear. But she can't let it go. Drawn to him like a moth to a flame, Luce has to find out what Daniel is so desperate to keep secret . . . even if it kills her.
Dangerously exciting and darkly romantic, FALLEN is a page-turning thriller and the ultimate love story.
FINALLY! IT IS HERE!!!
The movie trailer for the first book in the Fallen series is out, and you cannot miss it!
There is no word as to when the movie is to officially hit theaters yet, but it has been quite some time that we've heard about there being a movie in the making for Fallen.
Now that we've got the official trailer…we can pretty much say that it is official after waiting months and months after the movie was all filmed and finished.
Down below is Lauren Kate's official website to get more insight on the movie and series!
Make sure you to grab your copy of this beautiful and fascinating book!  
Book News
Nothing More
by Anna Todd
Book 1 of a new series featuring After worldwide fan-favorite Landon Gibson as he leaves Washington to navigate love and life in New York City. At the end of the After Ever Happy, Landon got married—but readers everywhere have been wondering who will get to call the nicest boy in the After series their forever love? Read it and find out!
"I'm so excited for everyone to get to know Landon Gibson. Whether you're just hearing about him or already know him from the After series, I know that readers are going to love his story. He's kind and fiercely loyal, and when he falls in love, he loves hard." (Anna Todd, New York Times and #1 international bestselling author of the After series)
Goodreads' Book Description:
New York's skyscrapers and hectic pace are a far cry from where Landon Gibson grew up, and the transition to New York University has been jarring. But he's getting the hang of things, found a job that pays (some of) the bills, enjoys school, and only occasionally runs into his ex, Dakota. You know, the one he chose NYU for…before she dumped him.
Luckily, his best friend, Tessa, shares a (terribly small) Brooklyn apartment with him. And given the ups and downs she's had with her own ex, she's a good listener when he finds himself in something of a love triangle—a love knot? Whatever it is, it's a mess. An exciting mess. Maybe an addicting mess, because beautiful girls.
Being young and finding your way in the world is hard. Landon's always been a positive person. But such a loud, demanding city so far away from home means you only get by with a little help from your friends. And a good pair of headphones.
Landon's going to be okay…but the journey sure will be fun to watch.
Book #1 of the Landon series is out and you do not want to miss it! If you've read After and you absolutely fell in love with Landon then go GET YOUR COPY TODAY!
 Movie News
The debut psychological thriller that will forever change the way you look at other people's lives.
EVERY DAY THE SAME
Rachel takes the same commuter train every morning and night. Every day she rattles down the track, flashes past a stretch of cozy suburban homes, and stops at the signal that allows her to daily watch the same couple breakfasting on their deck. She's even started to feel like she knows them. Jess and Jason, she calls them. Their life—as she sees it—is perfect. Not unlike the life she recently lost.
UNTIL TODAY
And then she sees something shocking. It's only a minute until the train moves on, but it's enough. Now everything's changed. Unable to keep it to herself, Rachel goes to the police. But is she really as unreliable as they say? Soon she is deeply entangled not only in the investigation but in the lives of everyone involved. Has she done more harm than good?
The movie trailer is down below…
You do not want to miss this #1 New York Times Bestseller out in theaters October 7!
Movie News
Everything, Everything
by Nicola Yoon
Goodreads' Book Description:
My disease is as rare as it is famous. Basically, I'm allergic to the world. I don't leave my house, have not left my house in seventeen years. The only people I ever see are my mom and my nurse, Carla.
But then one day, a moving truck arrives next door. I look out my window, and I see him. He's tall, lean and wearing all black—black T-shirt, black jeans, black sneakers, and a black knit cap that covers his hair completely. He catches me looking and stares at me. I stare right back. His name is Olly.
Maybe we can't predict the future, but we can predict some things. For example, I am certainly going to fall in love with Olly. It's almost certainly going to be a disaster.
It has been confirmed that Amandla Stenberg and Nick Robinson will star as Maddy & Olly in the EVERYTHING, EVERYTHING movie!!
According to The Hollywood Reporter
Rising actors Amandla Stenberg and Nick Robinson will star in Everything Everything, MGM and Alloy Entertainment's adaptation of the YA book by Nicola Yoon.
Stenberg has officially closed his deal while Robinson is in final negotiations, according to insiders.
The book, which hit shelves last September via Random House's Delacorte, debuted at No. 1 on the New York Times YA best-seller list. It was sold in 34 territories and 32 languages and has been on the NYT best-seller list for a total of seven months.
The project is the latest original movie from MGM, which is moving on the project following the strong worldwide success of its romantic drama Me Before You.
Go grab your copy today!
Movie news below:
http://www.hollywoodreporter.com/news/amandla-stenberg-nick-robinson-star-912150
Book News
LONG WAY HOME cover reveal! The 3rd book in the Thunder Road series. Release date: January 31, 2017
Seventeen-year-old Violet has always been expected to sit back and let the boys do all the saving.
It's the code her father, a member of the Reign of Terror motorcycle club, raised her to live by. Yet when her dad is killed carrying out Terror business, Violet knows it's up to her to do the saving. To protect herself, and her vulnerable younger brother, she needs to cut all ties with the club—including Chevy, the boy she's known and loved her whole life.
But when a rival club comes after Violet, exposing old secrets and making new threats, she's forced to question what she thought she knew about her father, the Reign of Terror, and what she thinks she wants. Which means re-evaluating everything: love, family, friends . . . and forgiveness.
Caught in the crosshairs between loyalty and freedom, Violet must decide whether old friends can be trusted—and if she's strong enough to be the one person to save them all.
Another amazing book coming your way by Katie McGarry!!!                                              Nowhere But Here and Walk The Edge book reviews will be up soon!